Blog
September 28, 2022
The names of all those who have died within the last year will be mentioned during the Litany of the Saints. All other names of the faithful departed will be listed in the worship leaflet.
All Souls Vespers
Sunday, October 30 at 3:00pm
If you wish to include names of the faithful departed, please submit names by Friday, October 21.
In this Vespers celebration, we are reminded that our family members and friends are with God and that we will be reunited with them. 

Please consider making a special gift in honor of your loved one. A gift is not required to include a name in the leaflet. On the giving form, please select the All Souls designation. 
September 27, 2022
From the Pastor: Open Wide the Doors for Christ  

When John Paul II was elected pope in October of 1978, he greeted the world in his inaugural homily with these words – "brothers and sisters, do not be afraid to welcome Christ and accept his power….open wide the doors for Christ." This message of opening up to Christ and the broader world was also a consistent theme of the Second Vatican Council which was initiated by John XXIII, who when calling the council, a surprise to many at the time, said the Catholic Church needed to throw open its windows so we could look out to the world and have the world glimpse inside the Church. This evocative description was accompanied by the overarching Italian word, aggiornamento which means "update" and provided a clarion call as the ecumenical council began. Notwithstanding the strengths and weaknesses of our modern popes and notwithstanding the disagreements about whether the reforms of Vatican II have been fully realized or integrated, this call – the call for the Church to open up and to go outside of herself has continued. This has also been the consistent message of Pope Francis since 2013, who has called the Church to go out to peripheries—geographical and existential—with the joy of the Gospel.
As I begin my first fall as your new pastor and as we continue our new journey of faith together, the call to open-up, to build-up, and to go out with our message of love and faith has been in my heart and on my mind. Getting to know more and more of you has been a gift—I have remarked to friends, colleagues, and brother priests that the parishioners and friends of The Basilica have been warm, gracious, and welcoming. I remain so impressed with the great care for and beauty of the liturgies, the generous and compassionate outreach to those on the margins, and the commitment to learn and grow in our faith, so that we can live as intentional disciples of Christ. As I continue the process of listening and learning as your new pastor, the call to strengthen and build up our community, especially after the toll that the pandemic has wrought, and the readiness to engage our broader community—outside the doors of our church—has been communicated to me by many of you. Consistently in Scripture, we learn that the Spirit of God is a Spirit of openness, courage, and generosity. Sadly, another spirit at times rules our hearts—one of fear, insecurity, and exclusion. As Christians, we follow a God who calls us to freedom – freedom for God and for others. This Spirit bids us to open wide the doors for all.
In looking back at my first few months as pastor, highlights include getting to know parishioners and friends at lunches, dinners, other gatherings, and over coffee and doughnuts after Mass. What has struck me about these opportunities to engage with you is how proud everyone is to be associated with The Basilica. I also enjoyed the opportunity to enter into days of retreat with The Basilica staff—both at St. John's University and the University of St. Thomas School of Law. These were important days of prayer, fellowship, and fun. Speaking of our Basilica staff, I admire the commitment to The Basilica and excellence our staff manifests. We are going through an unprecedented shift in the labor market here in the United States and globally. The Basilica is part of our broader society and thus not immune from these shifts. You have no doubt seen that some staff members have moved on to their next adventures—with warm regard in their hearts for The Basilica community—while at the same time we have welcomed new staff members who bring their own passion and unique gifts. Change and transition, which is part of life and can be challenging, also provides opportunity for growth and new life. My installation as pastor was also a highlight—a highlight that was both humbling and inspiring. The liturgy was truly beautiful and friends and family who attended remarked at how special The Basilica is—in the beauty of our liturgies and the warmth of your hospitality. I came away from that weekend with a full and grateful heart.
In looking ahead to the fall, there are so many opportunities for parishioners and friends to engage with one another and with the broader community. The Charles Caldwell exhibit now on display at The Basilica invites us to interact with the Arts in a way that is transformative. Additionally, fellowship opportunities abound this fall, including many opportunities for families and a robust early October celebration of creation and Blessing of the Animals through the intercession of the beloved St. Francis. Please join us for these special events. In the areas of Christian life and learning, a dynamic new series which focuses on Faith, Justice, and Healing invites us to engage with regional and national speakers on a variety of topics related to building a more just and peaceful society. Other ways to become involved at The Basilica include volunteering in important ministries, participating in our beautiful weekend liturgies, and financially supporting The Basilica through Sunday giving and through your support of The Basilica Fund. The call to meet this moment—the call to open-up, build-up, and go out takes all of us as we approach our present and future at The Basilica with confidence and hope that comes from God.
Peace,
Fr. Daniel
September 27, 2022
Seek the well-being of the city to which I have sent you. Pray for it to the Lord. For in seeking its well-being, you shall find your own.
Jeremiah 29:7

What does it mean to 'seek the well-being of the city,' as this prophetic verse from Jeremiah calls us to do? As the new pastor of The Basilica, I am humbled and honored to discern and to live out this call with you, on our shared journey of faith. With over 12,000 parish members, The Basilica community has robust capacity to meet the noble goal of serving the well-being of the city.
We are grateful to reflect on this past fiscal year and the remarkable work that has been done, and look ahead to the opportunity to create and build a vision that is filled with light and hope for all. Both our parish and city face challenges, including financial, but I am confident that with God's grace and your commitment, we can meet these challenges and together chart a course to a sustainable future. Our work at The Basilica is aligned to our Strategic Areas of Focus: The Arts, Inclusivity, and Homelessness—which remain central to our mission. This annual report captures the highlights of the year, including a few items I'm excited to share with you.
This past year, we launched our Intergenerational Faith Formation program online with 22 participating families—giving families the opportunity to grow in faith together.
Throughout the year, our Immigration Family Support ministry worked with nine families, including refugee, asylum, and sanctuary families. Recently, in partnership with St. Constantine Church, The Basilica is also seeking housing for families coming from the Ukraine.
In August of 2021, we had the opportunity to host the incredible Angels Unawares sculpture that depicts more than 140 refugees. We worked with over 20 local organizations and churches to gather, reflect, and share the message of this amazing piece of art.
This coming year we plan to build on our commitment to justice and peace here at The Basilica and within our broader community as we fulfill God's command to 'seek the well-being of the city.' Thank you for your commitment to The Basilica and to our shared journey of faith as we walk together in the light of the Lord.
Peace,
Fr. Daniel Griffith
Pastor and Rector, The Basilica of Saint Mary
September 26, 2022
All Mass recordings can be found at Mass Recordings.
September 25, 2022
September 25, 2022
September 23, 2022
Every time I hear the parable of the rich man and Lazarus in Luke 16, I wonder about the rich man allowing Lazarus to lay at his door—tolerating his presence. He did not order Lazarus to be removed, and perhaps was not intentionally cruel to him. As he allowed Lazarus to lay and eat anything that fell his way, did he feel somehow generous in his tolerance?
This Gospel parable challenges us: the sin of the rich man was accepting the condition of Lazarus—assuming it perfectly natural and inevitable that Lazarus could lay in pain and hunger while he enjoyed luxury. Indeed, the sin of the rich man was that he could look on his brother's suffering and need and be content to tolerate it—having it incidental and irrelevant to the rich man's life.
As I come into The Basilica Rectory weekday mornings, I see a man who sleeps outside on the steps that lead from the Rectory driveway to the west school parking lot. Sometimes he sleeps in the driveway. Sometimes on the curb of 17th street, leaning on the highway wall. Most days, he is here—literally lying at our door. One day, as I was walking back into the office after lunch, he called me and asked if I was going to eat the food I was carrying. He was asking for the scraps of my food.
Scripture is not always so poignantly real—but do we see the "Lazarus" in our lives? In many manifestations, he is there every day. And every day we have a choice of how we respond to his presence—both individually and collectively. If we look, there are opportunities and challenges in this call to radical and bold compassionate action. It is so easy for us to think we are doing something kind—even as we fall so short.
The Basilica community has always been committed to responding to the needs of the most vulnerable among us. In formal and informal ways, we reach out to see our brother and sister suffering or in need, accompany them through their journey, serve them, and defend them.
For the man lying at our Basilica door—we have gotten to know him by name. Sought to find services through partner non-profits to support him. Provided food and drink, respectfully. Welcomed him, even as he experiences mental health struggles. We hope he knows he is not alone. Yet, it doesn't feel enough.
Our faith calls us to deep and real solidarity with one another. We are called to care for our brothers and sisters, whoever they are and wherever they live. Regardless of national, racial, ethnic, economic, or ideological differences, we are one human family. We are called to embrace the reality of being interconnected—and to seek to embody this without resentment, indifference, domination, or exploitation.
This Gospel is a wake-up call to see the needs of our brothers and sisters and engage in bold compassionate action. Let us help one another to see and respond to the suffering and pain around us. What else would we expect of a Catholic community?
September 21, 2022
The Basilica is a place of refuge, a place of welcome, a place of healing for all. 
Thank you to everyone who joined us for the wonderful events and programs held this past weekend. 
I'm proud to be your pastor and journey with you and I hope you will join us. 
Peace, 
Fr. Daniel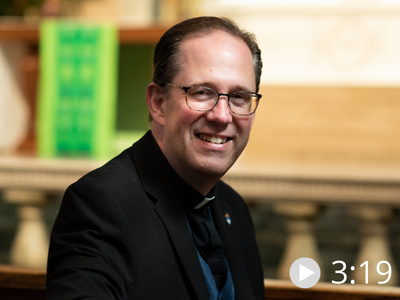 September 19, 2022
All Mass recordings can be found at Mass Recordings.
September 18, 2022
Pages